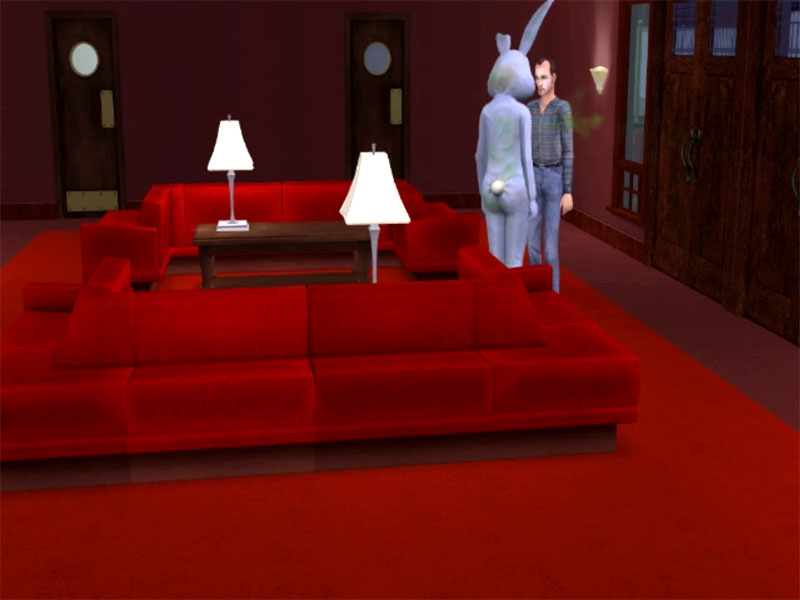 closing day / 2007 / vidéo durée 90min


closing day / play

closing day / play est un film proposant une partie entière de la simulation 'closing day' dans le jeu sim's.

'closing day' est la simulation du film " Shining " dans le jeu vidéo les " sims " : la simulation de l'hôtel " Overlook ", accompagné de ses trois protagonistes, immergée dans le jeu.

Les " sims " est un jeu vidéo de simulation de vie très complet de personnages fictifs qui permet de créer sa propre famille, avec son habitat et son environnement, et de la faire vivre pour la voir prospérer. Dans le jeu, le joueur doit porter une attention particulière à ses Sims en intervenant sur leurs actions et leurs besoins, sous peine des les voir " sombrer dans la mélancolie puis la dépression " (cf manuel du jeu). Il s'agit donc d'appliquer les principes du scénario de " Shining " (un groupe d'individus dans un espace clôt et isolé) au dispositif de vie artificielle des " Sims " et d'observer la simulation se dérouler en autonomie.

Les simulations des protagonistes du film sont définies à l'aide des paramètres du jeu : personnalités, aspirations, souvenirs, désirs et craintes… De la même manière, tous les éléments de la simulation de l'hôtel sont créés avec les outils de modélisation du jeu. Enfin, toutes les fonctionnalités de survie en autonomie sont fournies : nourriture, hygiène,…et tous les liens vers l'extérieur sont coupés.

Après un certain laps de temps en huit clos, le jeu / la simulation a généré des hallucinations propres à chaque protagoniste : un lapin pour Jack Torrance, des cafards pour danny... conduisant à des comportements étranges.

*Le titre closing day est en référence au chapitre éponyme du film, c'est le jour de clôture de l'hôtel Overlook avec le départ de tous ses occupants et l'arrivée de la famille Torrance pour garder seule l'hôtel l'hiver.



closing day

closing day / play is a film of the gameplay 'closing day' in Sim's game.

closing day* is a simulation of "Shining" the movie in the video game "sims": the simulation of the hotel "Overlook" is accompanied by its three protagonists, immersed in the game.

The Sims is a strategic life-simulation computer game, focused entirely on the lives of virtual people, placing the player in control of his virtual "world" and his daily activities, such as sleeping, eating, reading, and bathing. Although player is encouraged to make his own characters, his own family, with his habitat and environment, and to have them live, to see them prosper. The player controls almost every aspects of the family's lives. In the game, the player must pay special attention to his Sims intervening on their actions and needs of the latter, if this rules are not respected, the Sims may "sink into depression and melancholy" (see manual game). Therefore it is about to apply the principles of "Shining" scenario (a group of individuals in a closed and isolated place) to the artificial life "Sims device " and to observe the game simulation independently proceeding.

The film protagonists'simulations are set by using the game parameters : personalities, aspirations, memories, desires and fears… According to the same device, all the elements of the simulation of the hotel are created with the game modelling tools. Eventually, all the functionalities of survival autonomy are provided: food, hygiene,… and every link to the outside world is cut out.

After a certain period of time with closed doors, the game / simulation generated hallucinations for each protagonist: a rabbit for Jack Torrance, cockroaches for Danny ... leading to strange behaviours.

The exhibition space is the virtual video game, simulation is the artistic project, the context and project are part of the same process.

*The title "closing day" is a reference to the film eponymous chapter. It's the last day of the Overlook hotel with the departure of all its occupants and the arrival of the Torrance family who alone will keep the hotel during the winter.




closing day from Delafontaine Niel DN on Vimeo.

séquence accélérée du film closing day / accelerated film sequence closing day