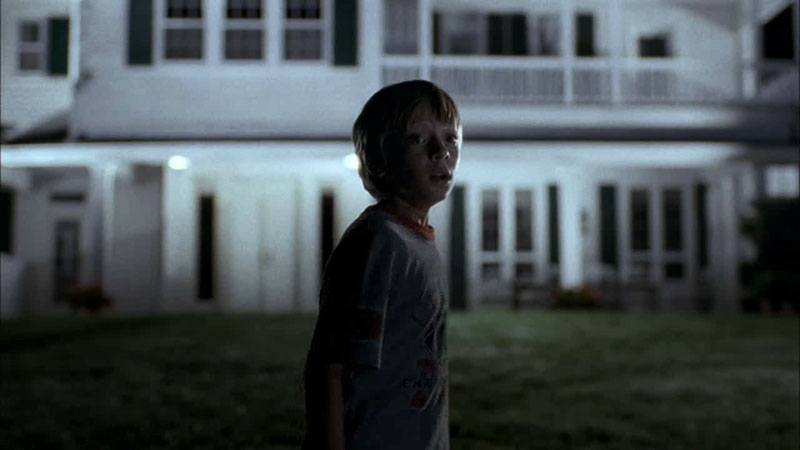 three minutes more
vidéo, 3 min


three minutes more

« trois minutes more» est un montage réalisé à partir des images du film de Michael Haneke FUNNY GAMES US*. Ce montage exprime les 3 minutes supplémentaires que Michael Haneke a filmées lorsqu'il a réalisé son propre remake FUNNY GAMES US aux Etats-Unis en 2007 de son film autrichien FUNNY GAMES* de 1997. Qu'est ce qui constitue cet écart de 3 minutes entre ces deux versions d'un même film par un même réalisateur ? Telle est la question posée.

Structurellement quasiment conforme plan par plan à son original, le remake se différencie par la durée de certaines scènes. Il ne s'agit pas en effet de l'ajout d'une scène particulière, mais bien de l'étirement, l'allongement de certains plans-séquences. Ce sont ces secondes supplémentaires qui ont été sélectionnées et montées pour constituer « trois minutes more ».

Ces secondes supplémentaires ont été choisies et prélevées dans chaque plan concerné. Cette succession de fragments, concentrés principalement dans les plans séquences les plus significatifs du dispositif de violence filmée par Haneke constitue un concentré, un précipité du film où l'on perçoit l'écart de la transposition américaine avec son original.

FUNNY GAMES (1997) et FUNNY GAMES US (2007) de Michael Haneke relatent le calvaire d'une famille de bourgeois aisés en vacances, humiliée et torturée sans mobile par deux jeunes gens. Funny Games et son remake sont d'abord des objets théoriques dont le principe consiste à prendre au piège un spectateur modelé à la fois par une idéologie et une habitude de la violence au cinéma. C'est une entreprise de déconstruction de la violence filmée.

"Three minutes more" is an editing of images from the film by Michael Haneke FUNNY GAMES U.S. *. This proposal expresses additional trois minutes that Michael Haneke filmed when he realized his own american remake FUNNY GAMES U.S in 2007 of Austrian film FUNNY GAMES * 1997. What makes the difference of 3 minutes between the two versions of the same film by the same director? That is the question.

Structurally almost each plan according to the original, the remake is distinguished by the length of certain scenes. It is not indeed an addition of a particular scene, but the lengthening, elongation of some sequence. These additional seconds have been selected and assembled to form "three minutes more."

These seconds have been selected and sampled in each plan concerned. This succession of fragments is mainly concentrated in the most significant sequence of the violence device filmed by Haneke. These succession of fragments compose a digest, a precipitate of the film where it appears the difference between the american transposition and its original version.

FUNNY GAMES (1997) and FUNNY GAMES U.S. (2007) relate the torture (suffering) of a wealthy bourgeois family on holydays, humiliated and tortured without mobile by two young men. Funny Games and its remake are at first theoretical objects whose principle is to trap a spectator modeled by both ideology and practice of violence in cinema. It is a deconstruction of violence filmed.


three minutes more from Delafontaine Niel DN on Vimeo.